Bocoton Classic,
a full range of beauty care and hygiene products made of cotton
Cotton pads : cotton in all its forms!
Round, maxi-oval, square…
Soft
Duo face for multiples uses
Cotton care baby pads :
cotton care baby are specially designed for baby care. Its format is easy to use for face and body.
Cotton buds :
classic cotton buds are suitable for cleaning ears.
Cotton baby buds :
with safety tips, cotton baby buds are ideal for baby care.
Breast pads :
with a cotton voile, nursing pads Bocoton are extra-soft and very absorbent and made of 100% natural cotton.
Cotton wool :
available in 100, 200 and 500 g precut or not, our cotton wool is completely hypoallergenic.
Cotton balls :
ultra soft and available in 4 colors.
Beauty'Amarel,
beauty care superior to any soft price !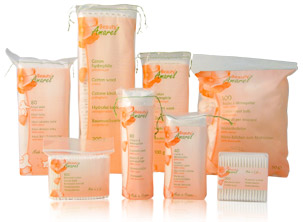 For all skin types, even the most sensitive ones, the products of Beauty Amarel range offer more comfort for a better fit.
Soft
An absolute comfort
Do not get fluffy
Cotocouche,
the easy and effective solution to cure the irritation of the baby's skin
Redness, irritation, diaper rash? Simply use Cotocouche !
Insert layer made of 100% cotton, 100% natural and 100% organic which is a real barrier between the diaper and the baby's skin
Cotocouche soothes irritation and helps the disappearance of redness. Baby's skin breathes freely soft and the contact is soft and pleasant